Curbside Recycling
---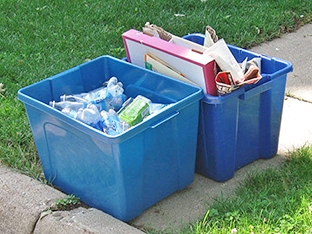 CLICK HERE TO SIGN-UP FOR CURBSIDE RECYCLING!

Greenwood Leflore Recycling has rolled out a residential curbside recycling program in the City of Greenwood with grant assistance from the Mississippi Department of Environmental Quality. The program has begun in the North-East and North-West Greenwood and will expand to other neighborhoods based on demand, as funds are available.

Households who choose to participate in the program will pay a one-time $15 fee and will receive two (2) curbside bins. One bin will be used for plastics #1 and #2, aluminum, and steel cans, and the other bin will be used for mixed paper. Corrugated cardboard can be flattened and placed underneath the curbside bins on collection day.

You may also purchase a recycling cart, which have been reduced from $69 to $49.50/each. These are blue recycling cans shaped like garbage cans with large wheels and the city logo on them. To purchase your cart, please visit the City Clerk's office in City Hall. The cart may be used for either paper and cardboard OR plastic recyclables and cans. You can use a recycling bin (with or without the lid) for one of the recycling choices.

Participants will place curbside bins/carts next to their trash cans near the street or alley on a certain day, and Greenwood Leflore Recycling employees will collect recycling on that day. Participants will be responsible for placing bins/carts out on collection day, and bringing them back to their homes for storage the remainder of the week.
How do I sign up?
In order to determine the neighborhoods that have the highest demand for curbside, we need to know if you want to participate! The form linked below will help organizers measure the interest for curbside recycling in Greenwood.

Each household will only be counted once, so please fill out all information completely. Greenwood residents who do not have access to the internet may call Greenwood Leflore Recycling at 662-455-7197 and leave their name, street address, telephone number, and email address to be added to the list.

CLICK HERE TO SIGN-UP FOR CURBSIDE RECYCLING!
Add to Report
View Report
As you navigate our website, you can use the "Add Page to Report" button to add any page or property to a custom report that you can print out or save.