City Hall
---
Old City Hall, 1904-1930
On July 9, 1904, bids opened for the construction of Greenwood's first city hall on East Market Street. The two-story brick structure housed offices of the Mayor, marshal, city clerk, collector, as well as waterworks, sewerage, the light plant and the city jail. The second floor constituted a large and well-ventilated courtroom and council chamber.
About the City Hall Building
The building was constructed at an estimated cost about $5,000. The location was described at the time as "one of the best in town, being directly on one of the principal streets." It was forecast at the time that "if the city should ever need a larger building on a larger lot, the structure can be easily transformed into an engine house or sold for business purposes."
- From the Greenwood Commonwealth - July 9, 1904
Current City Hall, 1930-Present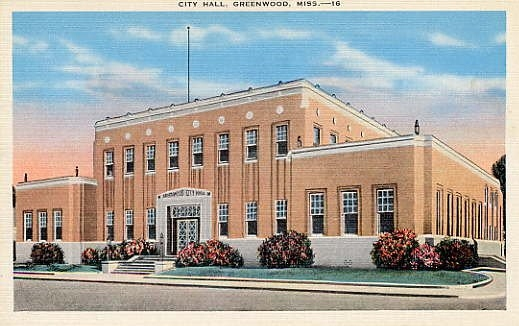 On February 21, 1929, negotiations were closed for the purchase of the Ed Bryan property at the corner of Main and Church streets for the construction of Greenwood's new City Hall. With a purchase price of $20,500, the City of Greenwood set out to erect a "municipal building housing the entire administrative functions of the City of Greenwood."
Design & Construction
The two-story City Hall was designed by Greenwood architect R.J. Moor and constructed by Howell Bros. Construction Company in the Art Deco architectural style. On the day of its grand opening in 1930, visitors were greeted by a sign bearing in the outline of a Greek Letter Delta, the legend, "Greenwood, Gateway of the Delta", and in the center of the letter, a bale of cotton.
Occupants
Today, City Hall still stands with many of its original architectural elements intact - a testament to Greenwood's storied past - serving as headquarters for the daily functions of Greenwood's city government. While departments have shifted and new buildings have been built to accommodate the expansion of city services over the years, City Hall remains home to the offices of the Mayor and City Council, City Clerk, Human Resources, Inspection Division, and the Fire Department.
- From the Greenwood Commonwealth - February 22, 1929; July 6, 1929; November 1, 2009
Add to Report
View Report
As you navigate our website, you can use the "Add Page to Report" button to add any page or property to a custom report that you can print out or save.