Events
---
More events can be found in the Mayor's bi-monthly newsletters.
December 2020
85th Annual Roy Martin Delta Band Festival and Christmas Parade
12/04/20
Cost: FREE to the public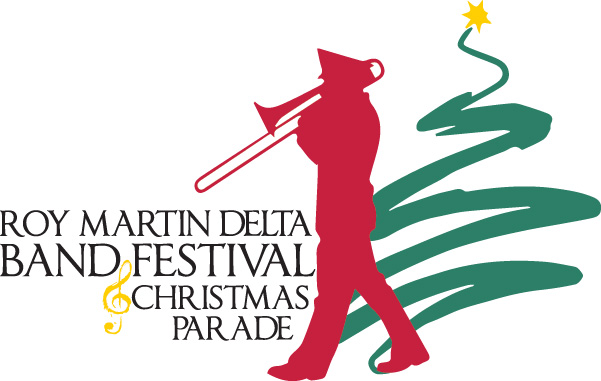 The Greenwood-Leflore County Chamber of Commerce is pleased to announce its plans for the 85th annual Roy Martin Delta Band Festival and Christmas Parade on Friday, December 4, 2020. Due to the ongoing Covid-19 pandemic and for the safety of our parade participants and spectators, we will be doing a modified version of our parade this year.
This year's parade will be called "Roy Martin In Reverse" and will be a Drive-Through Parade along the entire original parade route throughout the city of Greenwood.
***UPDATE: Locations for each parade entry along the route TBA.***
We are now taking parade entries! We are calling all floats, bands, musical and dance groups, mascots, inflatables, beauties, civic and community groups, and other entries for this year's Reverse Parade display. We are encouraging a variety of musical entries this year due to the smaller number of participating high school bands. That includes caroling groups, small ensembles, party bands, drumlines, gospel groups, etc. To submit a parade entry, fill out the form HERE or contact the Chamber to have one sent to you. You may also stop by the Chamber and pick up a form in person. FORMS ARE DUE FRIDAY, NOVEMBER 27th!
FIREWORKS will also take place this year and are sponsored by the Greenwood Convention and Visitors Bureau. The fireworks will begin at 7 p.m. between the bridges on the Yazoo River. The CVB and Chamber encourage citizens to enjoy the fireworks display responsibly from their car and with members of their own household. Designated parking will be made available.
For additional information, please call the Chamber at 662.453.4152.
---